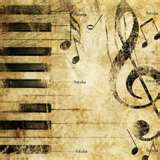 Secondary Music Teachers: 
May 22, 2020
The NFHS, NAfME, and the NAMM Foundation Have recommended guidelines for handling musical instruments during the COVID-19 school shutdown period. These guidelines are designed for use by music educators and educators may use these guidelines when teaching students and parents how to clean instruments. They may be found at https://www.nfhs.org/articles/covid-19-instrument-cleaning-guidelines/.
May 19, 2020
During the last couple of months, education has already undergone a significant transformation. Many wonder about the efficacy of using videos as instructional resources. This video featuring Salman Khan is very thought-provoking:
May 15, 2020
The Covid-19 Memory Project is designed for K-12 students to share their experiences during this unique time in our history. Student responses will become part of a permanent historical collection retained by Utah Division of State History that will help future generations learn about what life was like during the Covid-19 pandemic in Utah. Students can download and complete the form along with the release agreement with their parent or guardian and email to lmbarr@utah.gov.
May 14, 2020
At the current time, www.sightreadingfactory.com is offering free access to their resources. Educators may request access at support@sightreadingfactory.com. SightReadingFactory.com makes practicing the important skill of sight-reading easy, effective, and fun! This cloud-based service allows you to customize and generate unlimited sight reading examples instantly, on-demand for music educators, students, and hobbyists of all ages and abilities.
May 13, 2020
Are you familiar with Chrome Music Lab? Chrome Music Lab is a website that makes learning music more accessible through fun, hands-on experiments. Many teachers have been using Chrome Music Lab as a tool in their classrooms to explore music and its connections to science, math, art, and more.
Use the Song Maker to have the students create a simple song with a guided meter and scale (use the settings to tell them how to do this). This is a good time to make a screen recording to show them how to use the settings, to example the activity, and how to share it with you.
Use Melody Maker to decode a simple melody that they have sung in class.
Use the Spectrogram (picture of sounds) to have the students test various sounds and write comparisons about them.
There are more ways to use this fabulous site. Click here to see more ideas.
Early Elementary: Ask the parents or caregivers to use Song Maker to create a song together or to recreate a song that their child sings in class.
May 8, 2020
The Rhythm Trainer is a free, Flash-based program for learning and practicing rhythm. There are two types of exercises: A Mode, where you click in the rhythm you hear, or B Mode, where you see a rhythm and choose the sound that matches. At the end of your session, students can email their results to anyone (for example, their teacher) who can then see how they are doing.
May 7, 2020
Lori Nickerson, a teacher at Westland Elementary, asked her students to write about what they were missing about school. One of her students wrote, "I miss my music teacher, Mrs. Rowley. She is an awesome music teacher. She just kept on making new songs. I miss singing new songs and learning them. I liked the way that she taught us. The last thing I miss is art. When I did art, it was so fun, like super fun. It was fun because we got to paint with pastel crayons! I am so sad that I cannot do art right now." I'm certain that this student is expressing the sentiments of many, if not all, of the students with whom you work!
Teachers, the work you are doing in bringing the arts into the lives of our students is important!
May 6, 2020
Flipgrid is a video platform that allows students to quickly and easily record a video response to a question or topic that you pose. Several of you have used Flipgrid with great results! Flipgrid is totally free to use and works on any device. A post about using Flipgrid was provided last month, but I'd like to share this article that is designated for music educators:
20 Ways to Use Flipgrid in Music Education
May 5, 2020
Utah's Plan B Theatre Company challenged four Utah playwrights, four directors, four actors, and four sound designers to produce new radio plays for students ages 12+ in the space of only two weeks.  Each creative team rehearsed virtually and recorded in isolation. The resulting four 10-minute plays are online now and will be airing on 99.9 FM KUAA May 5-8.
Given the current physical closure of schools, Plan B is encouraging the creation of radio dramas at home as an effective, innovative, isolation-friendly and boredom-fighting way to approach and explore any subject. They've created a "How To" guide for students in grades 6-12 to create their own, original radio plays at home! They will be selecting student-produced radio plays to host on their website, so please encourage your students to send in their creations.
If your students would like to create their own versions of our RADIO SLAM plays, Plan B is happy to send copies of these and/or other scripts. Please visit their website that includes a number of wonderful educational meetings at https://planbtheatre.org/remotelearning/
April 29, 2020
There has been a lot of interest in creating group videos. I found this video to be very helpful!
April 28, 2020
We want to make you aware that your colleagues in the fine arts departments have been preparing their students for the annual JSD Art Show. The following announcement was featured on the District website. Please view and comment on the students' art at http://instagram.com/jsd.msartshow and http://instagram.com/jsd.hsartshow.
.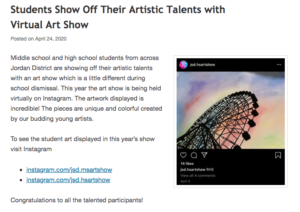 April 24, 2020
This one's just for fun! Enjoy and have a wonderful weekend:
April 23, 2020
I have recently become aware of a great app called Appcompanist.  Voice teachers, singers, and coaches are raving about this revolutionary new app! Appcompanist gives subscribers full control of the world's best piano accompaniment recordings - including key, tempo, melody, fermata, and more. Check it out here: https://www.appcompanist.com/.
April 21, 2020
Many of you have done outstanding work in finding creative ways to connect with your students at this time, including providing readings of stories. I've been impressed with all of those that I've seen. Clin Eaton is an award-winning drama teacher at Riverton High School who has recorded a story for students and is going to be doing more in the future. He indicated that his videos may be used and shared freely. Enjoy!:
April 20, 2020
Welcome back from what I hope was a great weekend!
The Springville Arts Museum provides a wealth of materials and resources for classroom teachers. Visiting their web page at http://smofa.org is highly recommended! Be sure to check out the lesson plans and other resources at http://smofa.lunasoft.com/smofa.org/teacher-resources.php.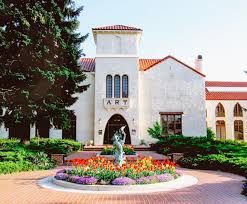 April 16, 2020
Even though you are not meeting with your music students in person, I still felt that the information presented on these two websites will be very helpful, if not now, when our students are back in the classroom:
COVID-19 and Cleaning Your Brass Instruments
COVID-19 and Instrument Hygiene for Musicians
April 14, 2020
The State Office (USBE) has produced a very helpful and informative video about FERPA (student privacy laws) and virtual learning. I strongly recommend taking a look at this. I learned a lot!
April 13, 2020
Welcome back! I hope you had a wonderful Spring Break! We know that you have been overwhelmed with resources and emails, so we are always striving to be very selective with the resources that we share with you here. I have recently become aware of an amazing resource called Breakout EDU that is being provided to educators free of charge for now. Breakout EDU is an immersive learning games platform that brings the challenges of an escape room the classroom. The Digital Game builder on the Breakout EDU platform allows users to create digital games to play with students. The new version of the platform gives teachers the opportunity to create classes, share games and review games submitted by students. To sign up for a free account, visit https://www.breakoutedu.com/covid19.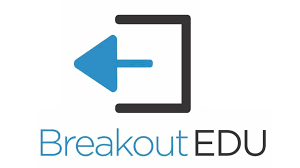 April 3, 2020 Update:
Teachers, you have made it to Spring Recess and you deserve to take a break! I appreciate your wonderful work! And for a good laugh, please enjoy Gerry Brooks' YouTube video!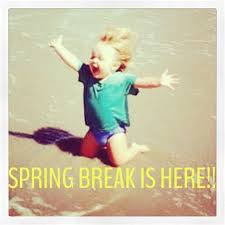 April 2, 2020 Update: 
We have had many questions about sharing copyrighted music in your online lessons. Laura Hathaway from USBE has distributed the following guidance:
The following stipulations have been approved by USBE attorneys regarding sharing copyrighted music in your online lessons:
1) the music is distributed only to the students assigned in the class, and,
2) the original hardcopies in the same numbers as the distribution are held at the school, and
3) the students are instructed about copyright law.
In addition, the music publishing industry is responding to the situation with new guidelines for this period:
https://www.alfred.com/blog/can-i-use-purchased-alfred-music-publications-digitally-remote-teaching/?utm_source=Twitter&utm_medium=social&utm_campaign=Blog&utm_content=alfred-music-digital-remote-learning
April 1, 2020:
Even though this falls outside of your subject area, I wanted to make you aware of this year's version of the JSD High School Art Show.  Because of current circumstances, the show will not be held at the Viridian Center. Instead, the teachers have decided that the show would take place on Instagram!
The
virtual art show on Instagram
is off to a great start!  There are already some amazing pieces on display there!  Please visit the show and "like" the student art that is posted and write encouraging comments!
Please feel free to share the JSD Virtual Art Show with as many as you can!
March 30, 2020 Update: 
Utah Symphony and Utah Opera have provided new, online music activities you can assign students, including:
virtual opera assemblies, both elementary and secondary, with follow-up, self-quizzes
symphony bingo, elements of music activity sheets, and listening music scavenger hunts
"Ask a Singer" and "Ask a Musician" boxes - our professional musicians will respond!
orchestra instrument library and opera voice type videos
teacher support request/suggestion box
coming soon:  Learn a Song in Italian in 3 weeks - and short operas for online viewing
Lastly, the Musicians of the Utah Symphony have expressed interest in leading online group lessons via Zoom for students for whom private lessons are out-of-reach. As a teacher, if you have a student or students who fit this description, please fill out our form here: https://utahsymphony.org/remote-teaching-request/ .
Click the links below to access all of our resources:
https://utahsymphony.org/school-from-home/
https://utahopera.org/education/school-from-home/
March 27, 2020 Update:
It's Friday! Congratulate yourself for getting through another week. My message to you today is to take some time this weekend (and hopefully every day after that) to take care of yourself. You are important. Please do something for yourself every day. It is not selfish, it is essential. Here are a couple of videos that may give you some ideas for what you can do. Find what works for you but promise me you will do something for yourself every day.
https://www.youtube.com/watch?v=5O5QIqlDxjg
March 25, 2020 Update: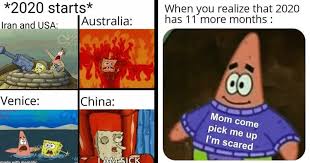 Keep smiling, everybody! 🙂
March 24, 2020 Update:
Thank you so much for the wonderful work you are doing in providing continuity in your students' musical development during this unique and challenging time.
Orchestra teachers, Pegsoon Whang, a Utah Symphony cellist, has offered to provide free individual or group cello lessons to Jordan District students (she is even working on recruiting her Symphony colleagues to do the same!). At your earliest convenience, could you send me the names of select students that you feel would benefit from an opportunity such as this? I'm hoping that we can provide her with some names by Wednesday (3/25) morning.
Music is a moral law. It gives soul to the universe, wings to the mind, flight to the imagination, and charm and gaiety to life and to everything.
FORMS: