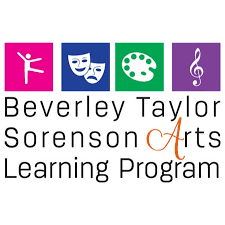 May 25, 2021
We have recently been made aware of a wonderful resource that is embedded in the wristco.com website.  The page is titled Concerts and Interactive Music Resources for Home.  A wide variety of performances and instructional resources may be found there.  It is hoped that this will be a useful resource for all of you in your teaching, and we encourage you to explore it!  Thanks so much to Diane, Jane, and Julia Henley for making us aware of this resource!!
May 26, 2020 Update
Since you no longer are in need of resources for online lessons, updates will not be posted everyday. As I receive sharable programs and art shows from specialists, we will celebrate the year by posting those here. I hope you enjoy this art show from Rachel Henderson and the students at Westvale Elementary.
Here are the links to my virtual art shows. YouTube won't post videos longer than a certain amount of time, so I had to split them up. Not super fancy, all done with my IPhone, but the kids work still turned out great. 3rd and 4th grade were in the middle of working on theirs when school closed but I still wanted to show what they had accomplished. The first video is a short photo gallery while the other three are a little longer and divide the grades up to give close up views of the work. Enjoy!
May 22, 2020 Update
Today's update comes from Jackie Webster, visual art specialist at Eastlake Elementary School. Sit back and enjoy!
My Virtual Art Show is finally done!  I hope you will all watch and enjoy.  This has been a month long process and I'm so proud of my Eastlake students and miss them! Some projects we weren't able to finish or even start, but what they accomplished was amazing!  There are two links:
Artistic expression in the education system is vital for individual development.  It is a way students can express themselves.  See for yourself the amazing work the students have created!
Here is the link for grades Kindergarten - 3rd(Part 1)
Here is the link for grades 4th - 6th (Part 2)
May 21, 2020 Update
The Kennedy Center has always been a great resource for arts integrated lesson plans. Did you know that they are also a great resource for distance learning? You'll find a lot of fabulous ideas here!
https://www.kennedy-center.org/education/
May 20,2020 Update
This is a great drama resource that goes into depth on some of the process drama tools that you are probably already familiar with. Many of these tools can be great for online as well as face to face teaching. Take a look!
Literacy Teaching Tool Kit - Role Play and Drama
May 19, 2020 Update
Weber State University has a list of resources for visual art teachers. If you are running short on ideas, check this out.
http://wsuartslearning.com/visual-arts-online-resources/
May 18, 2020 Update
At the current time, www.sightreadingfactory.com is offering free access to its resources. Educators may request access at support@sightreadingfactory.com. SightReadingFactory.com makes practicing the important skill of sight-reading easy, effective, and fun! This cloud-based service allows you to customize and generate unlimited sight reading examples instantly, on-demand for music educators, students, and hobbyists of all ages and abilities.
May 15, 2020 Update
The Utah Museum has requested that the following be shared with you:
At the Utah Museum of Contemporary Art, we understand the difficulties involved with trying to teach art online. We want to be part of the solution, so we're reaching out to let you know that we have compiled a number of resources for your use.
A link to all of these resources can be found here: https://www.utahmoca.org/educator-resources/
May 14, 2020 Update
Are you familiar with Chrome Music Lab? Chrome Music Lab is a website that makes learning music more accessible through fun, hands-on experiments. Many teachers have been using Chrome Music Lab as a tool in their classrooms to explore music and its connections to science, math, art, and more.
Use the Song Maker to have the students create a simple song with a guided meter and scale (use the settings to tell them how to do this). This is a good time to make a screen recording to show them how to use the settings, to example the activity, and how to share it with you.
Use Melody Maker to decode a simple melody that they have sung in class.
Use the Spectrogram (picture of sounds) to have the students test various sounds and write comparisons about them.
There are more ways to use this fabulous site. Click here to see more ideas.
Early Elementary: Ask the parents or caregivers to use Song Maker to create a song together or to recreate a song that their child sings in class.
May 13, 2020 Update
The Rhythm Trainer is a free, Flash-based program for learning and practicing rhythm. There are two types of exercises: A Mode, where you click in the rhythm you hear, or B Mode, where you see a rhythm and choose the sound that matches. At the end of their session, students can email their results to anyone (for example, their teacher) who can then see how they are doing.
May 12, 2020 Update
Today I want to share with you a Ted talk that was shared with me at our BYU Leadership meeting. It is by Dewitt Jones, former photographer for the National Geographic. The title of the talk is "Celebrate What's Right With the World". When Mr. Jones can't see the beauty around him, he changes his lens.
Celebrate what's right with the world | Dewitt Jones | TEDxSouthLakeTahoe
May 11, 2020 Update
We have the dates for next yea's DART meetings.  Let's hope that everything will be somewhat back to normal by then and that the meetings can go on as planned.  Due to a few conflicts in scheduling, we had to move off of the third Wednesday for a couple of the months. We will not be having a meeting in November. Instead, we will be having a meeting on the first Thursday of December. Here are the dates:
September 16; October 14; December 3; January 20; February 10; March 10; April 21.
May 8, 2020 Update
Lori Nickerson, a teacher at Westland Elementary and part of our DART team, asked her students to write about what they were missing about school. One of her students wrote, "I miss my music teacher, Mrs. Rowley. She is an awesome music teacher. She just kept on making new songs. I miss singing new songs and learning them. I liked the way that she taught us. The last thing I miss is art. When I did art, it was so fun, like super fun. It was fun because we got to paint with pastel crayons! I am so sad that I cannot do art right now." I'm certain that this student is expressing the sentiments of many, if not all, of the students with whom you work!
Teachers, the work you are doing in bringing the arts into the lives of our students is important!
May 7, 2020 Update
Flipgrid is a video platform that allows students to quickly and easily record a video response to a question or topic that you pose. Several of you have used Flipgrid with great results! Flipgrid is totally free to use and works on any device. A post about using Flipgrid was provided last month, but I'd like to share this article that is designated for music educators:
20 Ways to Use Flipgrid in Music Education
May 6, 2020 Update
Utah's Plan B Theatre Company challenged four Utah playwrights, four directors, four actors, and four sound designers to produce new radio plays for students ages 12+ in the space of only two weeks.  Each creative team rehearsed virtually and recorded in isolation. The resulting four 10-minute plays are online now and will be airing on 99.9 FM KUAA May 5-8.
Given the current physical closure of schools, Plan B is encouraging the creation of radio dramas at home as an effective, innovative, isolation-friendly, and boredom-fighting way to approach and explore any subject. They've created a "How To" guide for students in grades 6-12 to create their own, original radio plays at home! They will be selecting student-produced radio plays to host on their website, so please encourage your students to send in their creations.
If your students would like to create their own versions of our RADIO SLAM plays, Plan B is happy to send copies of these and/or other scripts. Please visit their website that includes a number of wonderful educational meetings at https://planbtheatre.org/remotelearning/
May 5, 2020 Update
Happy National Teachers Day!!! What an amazing job you are all doing. And while we are at it, Happy Cinco de Mayo! In honor of Cinco de Mayo, you can have your students play charades using Spanish words.  Or you might try one of these links
May 4, 2020 Update
Happy Star Wars Day! To help support teachers during the soft school closure, the Utah Film Center has released some education resources.
May 1, 2020 Update
Happy May Day! I hope you are able to spend part of your time outside today, enjoying a beautiful spring day. Monday will be May the 4th, also known as Star Wars Day. So with that in mind, I thought I would post some ideas for what you can do with your kiddos to celebrate the day, art style!
Dance: Get up and move to the Star Wars sound track! See if you can capture the various moods in your movement and facial expressions.
Drama: Create Star Wars puppets by simply cutting out pictures and putting them on sticks. Or better yet, draw your own pictures. With your puppets, create a puppet show!
Music: Darth Vader has a very famous leitmotif (the music that plays when he enters the room). What would be your leitmotif? Create your own music to play when you enter the room or choose a song that represents you.
Visual Art: Draw your favorite Star Wars character or scene. Use any medium you like. You could even recreate a scene using clay.
April 30, 2020 Update
Dave Jackman, BTS instructional coach in the Alpine District, has started an instagram page for student art (all art forms) to help stop the spread of coronavirus. If you would like to join in, here a re the instructions.
April 29, 2020 Update
We would like to invite you to take another look at the JSD High School Art Show on Instagram. There are many additions to the show that are worth your time to browse through. We hope you will pause and add some comments to the pieces.  These students have worked hard and are very deserving of your accolades!
https://www.instagram.com/jsd.hsartshow/
April 28, 2020 Update
The Dallas Symphony Orchestra has a wonderful page for students.  It is full of resources for not only students but teachers as well. Take a few minutes to see if any of their resources will be useful for you: https://www.mydso.com/dso-kids
April 27, 2020 Update
I hope you had a wonderful weekend.  Today's resources come from a very popular source, Disney! Check out these activities tied to some of their films.  There are also some fun things to explore backstage in The Lion King
April 24,2020 Update
I have recently become aware of a great app called Appcompanist.  Voice teachers, singers, and coaches are raving about this revolutionary new app! Appcompanist gives subscribers full control of the world's best piano accompaniment recordings - including key, tempo, melody, fermata, and more. Check it out here:
https://www.appcompanist.com/.
April 23, 2020 Update
I just found out that today is Talk Like Shakespeare Day! Have fun with this poster!
Yesterday was Earth Day.  I am certain that you have heard that the earth is thriving with all of us staying home. I am also certain that you have all heard of Dr. Jane Goodall. What I'm not so certain about is whether or not you have heard of her website, Roots and Shoots. It is packed full of activities for kids, families and educators. She even has story time with Dr. Jane reading a new story every week. Check it out.
April 22, 2020 Update
Sharon Velluto, visual art specialist at Oquirrh Elementary, has so kindly shared an art lesson plan with us that is a game that can be played with the entire family. It also includes a recipe for salt dough. As a side note, I've found that if you put salt dough in a plastic bag in the fridge, it will last for a very long time. Enjoy!!
April 21, 2020 Update
Many of you have done outstanding work in finding creative ways to connect with your students at this time, including providing readings of stories. I've been impressed with all of those that I've seen. Clin Eaton is an award-winning drama teacher at Riverton High School who has recorded a story for students and is going to be doing more in the future. He indicated that his videos may be used and shared freely. Enjoy!:
April 20, 2020 Update
Welcome back from the weekend. I would guess that this weekend was a bit less eventful than what your weekends used to be like. Today's self care topic is social self care.  It can be hard to stay connected when we have to stay apart. Here is an article with some ideas on how you can connect with friends and family while social distancing.
Today I thought I would share the Art Works For Kids lesson plan link. There are many arts based lesson plans here that can be adapted to distance learning.  Take a look around.  There is no doubt something here that will spark an idea in you!
Art Works For Kids Lesson Plans
April 17, 2020 Update
Even though you are not meeting with your music students in person, I still felt that the information presented on these two websites will be very helpful, if not now, when our students are back in the classroom:
COVID-19 and Cleaning Your Brass Instruments
COVID-19 and Instrument Hygiene for Musicians
Today's self care tip comes from the American Heart Association. Maintaining good health is more important today than it has ever been. Check out this list of 25 tips on how to eat healthy. Try adding one a day for the next 25 days!
Daily Tips to Help Your Family Eat Better
April 16, 2020 Update
Our self care tip of the day is to breath. That's right, just breath. There are many benefits of breathing deeply but don't take my word for it. Check out this article.
And here is a video to assist you in your deep breathing
Today's lesson plan comes from Rinda Clyde, music specialist at Silver Crest Elementary. Rinda's lesson on sound waves seems appropriate for a day that is centered on earthquakes, both real and pretend!
April 15, 2020 Update
Were going to start today with an important video from USBE on FERPA (student privacy laws) and virtual learning. It's a must see for all teachers!
We're still talking about physical self care today. You knew we would eventually get to that "e" word, exercise! You don't have to do a lot but you should do something. Just getting away from your computer to walk around the house for a few minutes is helpful. Walk outside so you get the sunshine and stay out of the kitchen! if you like, you can find numerous exercise programs on the Internet to fit your specific needs. Whatever you decide to do, just do it! Get up and move!
April 14, 2020 Update
Today's self care tip is to get outside! Even though we are working from home, it doesn't mean that you have to stay in the house all day. Just as our students needed outside time during recess, we need outside time! Sunshine has many benefits. Check out this article:
7 Ways Sunshine Benefits Health
Today's lesson plan comes from Jackie Webster, visual art specialist at Eastlake Elementary. Jackie has shared her youtube channel with us.  It is full of wonderful art lessons. Thank you Jackie, for putting together such a fun resource!
April 13, 2020 Update
Welcome back! I hope you enjoyed the break and were able to do something for yourself. I've heard some teachers say they are being overwhelmed by resources. With that in mind, I will be posting a daily self care tip along with a fun lesson plan.
This week's self care will focus on taking care of your physical needs.  Today's topic is something we all love, sleep. Not being an expert on the subject myself, I'm sending along a couple of links to help you decide if you are getting enough sleep and to assist you in getting that sleep.  Pleasant dreams!
How sleep affects your immunity
Today's lesson plan comes from BYU Radio.  It is a 10 part retelling of the classic tale, Treasure Island. One of our drama specialists, Jodi White  from Foothills Elementary, has put together some additional ideas to enhance the experience. Have fun!
April 3, 2020 Update
We made it to Spring Break! I hope you will take some time for yourself. Do something you love and stay safe!
We have had many questions about sharing copyrighted music in your online lessons. Laura Hathaway from USBE has distributed the following guidance:
The following stipulations have been approved by USBE attorneys regarding sharing copyrighted music in your online lessons:
1) the music is distributed only to the students assigned in the class, and,
2) the original hardcopies in the same numbers as the distribution are held at the school, and
3) the students are instructed about copyright law.
In addition, the music publishing industry is responding to the situation with new guidelines for this period:
https://www.alfred.com/blog/can-i-use-purchased-alfred-music-publications-digitally-remote-teaching/?utm_source=Twitter&utm_medium=social&utm_campaign=Blog&utm_content=alfred-music-digital-remote-learning
Just an extra note.  The link to the High School Art Show was not complete so if you tried to go it, I apologize. It has been corrected. Here it is again.  Please give these kids your support by commenting on their pictures!
https://www.instagram.com/jsd.hsartshow/
April 2, 2020 Update
One of the disadvantages of learning from home is so much screen time! Today's update comes from a BYU Arts Partnership blog. It is full of ideas of how we can get our kiddos out from behind the screen, using the arts!
https://docs.google.com/document/d/1-3ntdc8aGAVfTrzfY5JCe8qqM1IFBSM4jQY46kNbcpk/edit
April 1, 2020 Update
Happy April Fools Day! To add to today's fun we have some fantastic opportunities for you in visual art. First off, we have a couple of links provided by Ishel Hertz, a visual art specialist at Majestic and Heartland Elementary Schools.  Ishel has a YouTube and Instagram channel. Every weekday at 1:00, Ishel teaches a live art lesson on Instagram. Feel free to join in!
https://www.youtube.com/channel/UCxvddyn5JGochUoI0ri6QXA?fbclid=IwAR0b5LXLB8Brugc1p9DI1Gf778kssYD-oFO6MILqJcCuU1dJedUJR0Orw_8
https://www.instagram.com/mrs.hertzartclass/
We would also like to invite you to an Instagram art show.  The Jordan District middle school and high school art shows have adapted to the new digital world and are now online.  The students would love to get your positive feedback on their hard work.
https://www.instagram.com/jsd.hsartshow/
March 31, 2020 Update
Here we are on the last day of March! Looks like it's going out like a lamb. Today's share comes from our amazing dance teacher, Jana Shumway from Herriman Elementary. Jana came up with the brilliant idea to do a dance version of mad libs! Let's get those kids up and moving!
https://mail.google.com/mail/u/0?ui=2&ik=dcbd45d6fe&attid=0.1&permmsgid=msg-f:1662327293394063797&th=1711c5ddaf3091b5&view=att&disp=inline&realattid=f_k8a9v58b0
https://mail.google.com/mail/u/0?ui=2&ik=dcbd45d6fe&attid=0.2&permmsgid=msg-f:1662327293394063797&th=1711c5ddaf3091b5&view=att&disp=inline&realattid=f_k8a9vih51
March 30, 2020 Update
I hope you had a wonderful weekend and were able to take some time for yourself.  Today we have a fabulous lesson from Kristen Helton.  She is a music specialist at  Ridge View Elementary. Thank you Kristen for sharing this fun filled lesson with everyone!
In the Hall of the Mountain King
March 27,2020 Update
It's Friday! Congratulate yourself for getting through another week. My message to you today is to take some time this weekend (and hopefully every day after that) to take care of yourself. You are important. Please do something for yourself every day. It is not selfish, it is essential. Here are a couple of videos that may give you some ideas for what you can do. Find what works for you but promise me you will do something for yourself every day.
https://www.youtube.com/watch?v=5O5QIqlDxjg
Visual arts specialists, we will have a Google Hangouts Meet on Tuesday (3/31) at 9:00 a.m. The link for the meeting is https://meet.google.com/vsq-fyss-bkz?hs=122. See you on Tuesday!
March 26, 2020 Update:
Check out this amazing website set up by Spencer Duncan, one of our drama specialists. Spencer gave me permission to share it here.
https://duncantheatre.weebly.com/
March 25, 2020 Update:
Due to the current situation, many of the publishers of children's books are allowing teachers to read their books online as part of their lessons. It is very important that you follow the guidelines that each publisher has put forth.  Here is an up-to-date link of the publishers and their guidelines for using their books.
https://mail.google.com/mail/u/0?ui=2&ik=dcbd45d6fe&attid=0.1&permmsgid=msg-f:1662079693692703339&th=1710e4ace2f1926b&view=att&disp=inline&realattid=f_k86d9ozh0
March 24, 2020 Update:
ART ED FLEX and PRO--AMAZING OPPORTUNITY TO USE GREAT RESOURCES: Announcement from Evan Nees:  During this time of crisis the Art of Education is honored to support the teachers in the Jordan School District for the next 30 days. We are giving them access to the PRO and FLEX Curriculum platforms. Below is the email address teachers will need to unlock all the content. If they have any questions please let me know. We can also do a zoom conference meeting for your teachers to walk them through the platform if needed.
PRO Access
(Do not use any other email address than the one stated above, no password is required)
FLEX Access
(Do not use any other email address than the one stated above, no password is required)
NOTE: 
Before diving into FLEX please click on this link for a quick walk video on how to navigate the platform. 
FLEX Walkthrough Tutorial
March 23, 2020 Update: During the past week, Linda Gold and I (Norm Emerson) have been so impressed with the creative and innovative ways that many of you have shared on how you are continuing to meet the needs of your students during this unique and challenging time. It is truly a privilege to work with all of you!
Carlie Phillips from Quaver has informed me that as a quick solution to get your students up and running with at-home learning, the Quaver team has put together a Music at Home 2020 Master Class and filled it with assignments to help address a number of general music topics. They have created a district login all students can use to access these resources. BTS Specialists, you can share the account information with your students so they can easily explore the available assignments at home by visiting QuaverMusic.com. The instructions are below.

2.
You will be brought to the login page. Type in the following login information:
My QuaverName: Jordan2020
My Password: Jordan2020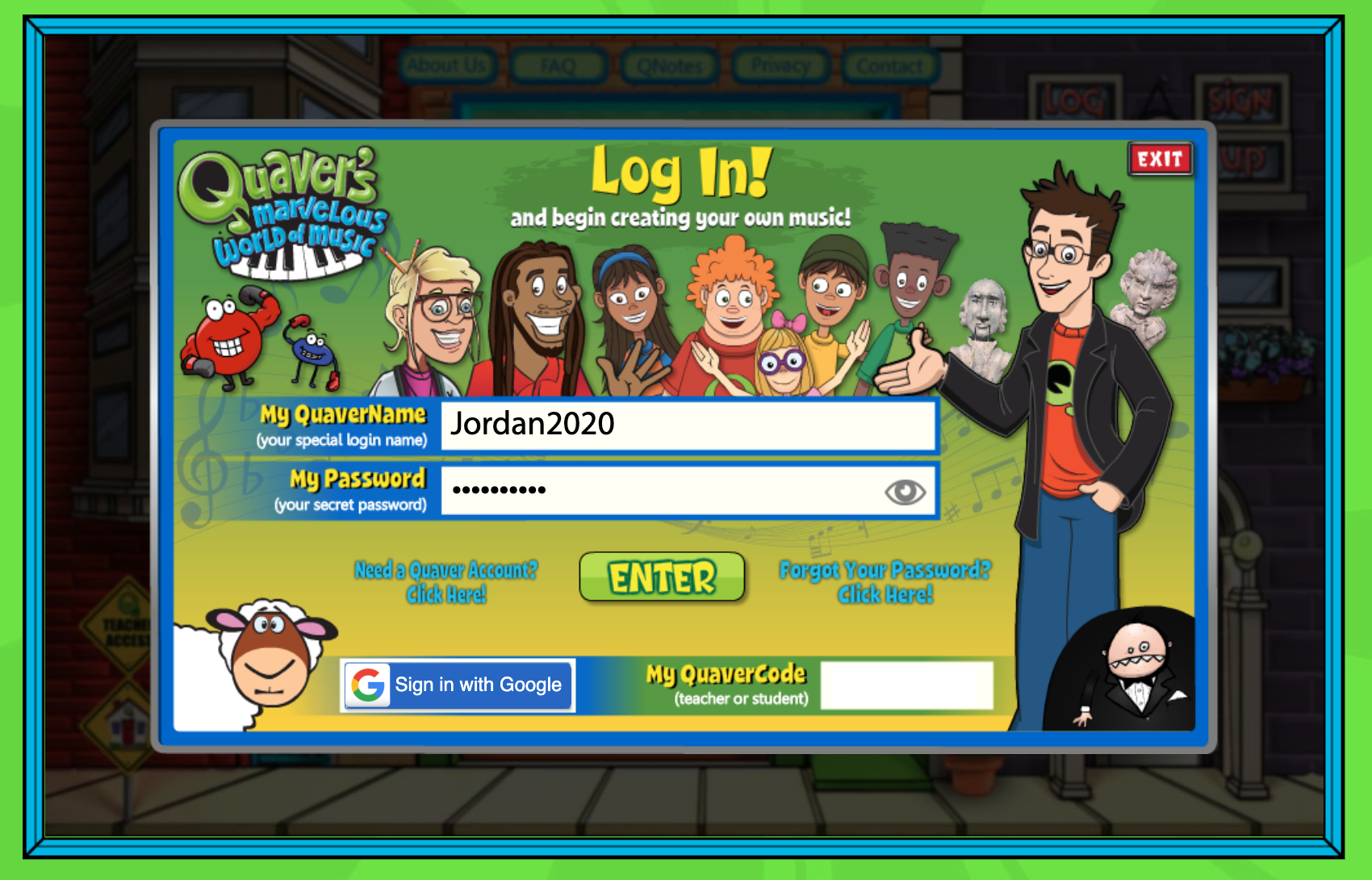 3. Boom-Chicka-Boom! You should now be on the Quaver Student Dashboard, enrolled in our Music at Home 2020 class. From here, students can explore Student Interactives, Creatives, and more! Click the Assignments button to access self-guided activities and resources curated by the Quaver team to help students continue their music learning at home!