2022 Fall Productions

2022 High School Shakespeare Competition
Congratulations to students and teachers from Mountain Ridge, Herriman, and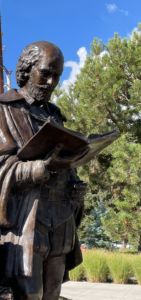 Riverton High Schools who participated in the 2022 Shakespeare Competition. The competition is sponsored by the Education Department of The Utah Shakespeare Festival and hosted by Southern Utah University as well as the Utah Shakespeare Festival.  High school and middle school students from Utah, Nevada, and Arizona participated in this year's competition.
The Shakespeare Competition cultivates the art of theatre, dance, and music, by providing active observation of peer and professional performances, educational creations based on Shakespeare's plays and poems, and personal evaluation by working theatre and dance professionals.
Jordan School District Students competed in ensemble scenes, duo/trio scenes, monologues, dance ensemble, duo/trio dances, and technical theatre.  Students also had the opportunity to see two Utah Shakespeare Festival plays.
---
Mountain Ridge High School
:
Sterling Lund & Emma Chapman-- 2nd Place in Duo/Trio Scenes
Dance Ensemble--3rd Place
Kameryn Grose--Finalist in Monologues
Technical Theatre--Fastest Time in Tech Olympics
Lizzie Longhurst--'Larry Lott Best Ensemble Actor 'Award--$1,000 Scholarship
Ensemble Scene--3rd Place
Joey Milligan--1st Place in Stage Management--Tech Olympics
USBE Fine Arts Newsletter - Oct 2022

Performances for 2022-2023:
Bingham High
Pirates of Penzance
Henry V
Nov 17, 18, 19, 21 @ 7:00pm, 
Nov 19 matinee @ 2:00pm
Feb 24, 25, 27 @ 7:00pm,      Feb 25 matinee @ 2:00pm
Adults $6, Students $5
Adults $6, Students $5
---
Copper Hills High
Cinderella
Murder on the Orient Express
Nov 10, 11, 12, 14 @ 7:00pm
Feb 23, 24, 25, 27 @ 7:00pm
Adults $8,  Students $7 Seniors/Military $6
Adults $8,  Students $7 Seniors/Military $6
---
Herriman High
Twelve Angry Jurors
Freaky Friday
Nov 9, 10, 11, 12 @7:00pm
Feb 22, 23, 24, 25 @ 7:00pm
Adults $8, Students/Seniors $5
Adults $9, Students/Seniors $7
---
Riverton High
Bye Bye Birdie
The Odyssey
Nov 16, 17, 18, 19, 21 @ 7:00pm
Feb 22, 232, 24, 25, 27 @ 7:00pm
Adults $9, Students/Seniors $8
Adults $9, Students/Seniors $8
---
Mountain Ridge High
Nov 17, 18, 19, 21 @ 7:00pm
Feb 23, 24, 25, 27 @7:00pm
Adults $8, Students/Seniors $7
Adults $9, Students/Seniors $8
---
West Jordan High
Footloose
A Midsummer Night's Dream
Nov 17, 18, 19, 21 @7:00pm, 
Nov 19 matinee @ 2:00pm
Feb 23, 24, 25, 26, 27 @ 7:00pm
Adults $10  Students $8
Adults $10  Students $8
---
Approved Musical/Play List:
Forms:
-all forms on this page are PDF
Resources: