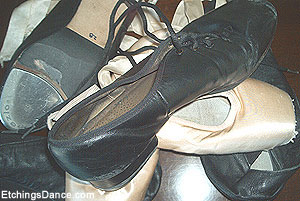 April 14, 2020 Update: 
We hope this finds you well and rested from the weekend. 
It is hard to believe that some of us are entering our 5th week of online teaching (our first live-stream class was on Thursday, March 19th).  Video-recording and lesson plans are all valuable resources, but we still seem to really enjoy the live element of the live-stream lessons, for at least we get to share the time, the (virtual) space, and some, if not all, energy with our students through moving together. That little bit of dancing with our community really gives us a sense of hope, and reminds us of being dancers, and being humans. Therefore, we have decided to add a few more live-stream opportunities to our educational offerings. 
NEW For Middle and High School Dancers
We have recognized the gap - we haven't been offering much live-stream options for the middle-school and high-school dancers. We are ready to step up the game and get those young dancers dancing with us!! Please see below for the new opportunities.  One is a workshop of daily classes Monday through Saturday where students can sign up, the other one is a customized live-stream class each teacher can arrange with us. 
Y.A.I.M. Live-Stream DAILY Workshop for Young Dancers, Monday April 20 - Saturday April 25 (FREE of charge)
We are aware there are many online workshops available these days. Our goal is to reach out and connect with our local young dancers.  We are committed to helping them stay physically, mentally, and emotionally healthy, and also simply want to connect with them through dancing together. 
Daily live-stream workshop for middle and high school dancers from Monday April 20 -  Friday April 24th at 4:00- 4:45 p.m., and 

 

Saturday April 25th at 10:00 - 11:00 a.m. 

 

Our Company dancers are getting really good at teaching live-stream style! Let's keep your dancers engaged and inspired.

Middle/high school dancer(s) can participate one day, a couple of days, or all six days - whatever works with their schedule. The classes are free of charge, however, they have to register to receive the link.

This workshop is where students can participate by Webex meeting, while they are staying home, and staying safe.
Please recommend that your students sign up by emailing Ai Fujii Nelson at education@ririewoodbury.com  1) Their full name, 2)School Name, 3) Event name: Y.A.I.M. Live-Stream Workshop 4/20-25. Once they are on the RSVP list, we will send them the link and password to the workshop.
NEW  Live-Stream Classes for Classroom Teachers and Middle School/High School Dance Companies (Customize-able!) (FREE of charge)
Moving forward with our experience teaching the live-stream classes for the last 4 weeks, 
we would like to offer live-stream sessions for classroom teachers and dance educators from any public or charter school in Utah. The specific date, time, and content can be discussed and determined based on each classroom's particular needs. 
We can schedule a convenient time to conduct a creative movement class, end-of-the-year dance party, guest teaching for your dance company, or shared movement practice with your students  - whatever dance experience that fits your unique situation. These classes are free of charge (supported by POPS/Utah State Board of Education), and Webex will be the online video conferencing platform we use. 
To arrange a Live-Stream Lesson(s) with us, please contact Ai Fujii Nelson at education@ririewoodbury.com
Ongoing Live-Stream Classes for the community (Monday - Friday)(FREE of charge)
* We have updated our system, after receiving the news about "Zoom-bombing."  Now our Zoom meetings are password protected with the waiting room function.
We want to protect our participants and community members, especially young dancers and children.  While it is not as easy as one-click,  please know that by going through the registration process, you are taking the important step to protect your students and yourself.
Online resources for K-6, middle and high school, and senior citizens. (FREE of charge)
Online Lessons and Activities.

We have uploaded a ton of reading materials for middle and high school level dancers  - mostly Study Guides from our past student matinee and previews.  There are a lot of information about established and emerging contemporary choreographers and dancers! Some of them include lesson prompts. Feel free to modify to fit your lesson agenda.

We have also added some videos for senior citizens/older dancers.  They are the Minding Motion For Graceful Aging™ online dances, a series of seated movement sequences for seniors and older adults to maintain overall health and wellbeing. Ririe-Woodbury Outreach Director and Minding Motion Co-founder Juan Carlos Claudio will guide you through a series of gentle 2-4 minute movement sequences that incorporate coordination, range of motion, fine, and gross motor functioning from the comfort of your home. These short dances can be done in a chair, standing behind a chair or standing. Please share with your loved ones and anybody who might enjoy these resources.
"We dance for laughter, we dance for tears, we dance for madness, we dance for fears, we dance for hopes, we dance for screams, we are the dancers, we create the dreams."
Secondary Dance is a fine arts credit state wide. Programs vary from school to school and are based on school needs and facilities. For more specific information click on the link below:
FORM:
Major Event Form